12 Oct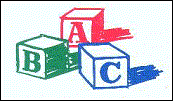 All center policies and tuition payment rules apply to ABC participants as well.
The ABC program will pay an annual registration fee.  If you switched your child from another preschool the parent is responsible for the registration fee.  You will also be responsible for the remaining balance after ABC applies their portion to your account.
C0-payment: All co-payments are due on the first day of the month.  You are also responsible for knowing when your ABC voucher starts and ends.  If your child is still in attendance and ABC is not furnishing funds, the full rate is your responsibility.
If your child is sick or has a doctor's appointment, we will need an excuse signed by his or her doctor or the child will be counted absent.  If a child has over 15 absences, he or she may be dropped from the ABC program.  Nine hours a day is the maximum time any child is allowed in the preschool daily.  Part-time ABC participants are allowed 20 hours a week or you may  pay the difference of your ABC voucher if you would like for your child to attend on a full-time basis.