12 Oct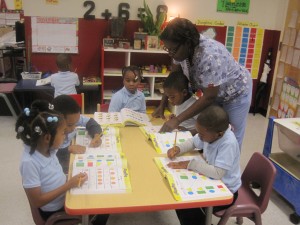 Parents must clock their child/children in and out by using the computer provided. Students should arrive each day by 9am. Each child is allowed 9 hours per day within the childcare facility.  Please accompany your child inside the front entrance, and provide information on where you can be reached during the day, if different from the information on your application.  If your child is not picked up promptly at the time allowed without parent notification, DSS will be contacted and you will have to pick your child up from the police station or DSS Office.
Medication: We must have signed permission to administer prescription medications and emergency treatment.  The parent must fill out a medical form each week, even if the child is on the medication for more than a week.  The preschool will only administer Tylenol, Motrin, and medicines prescribed by a doctor.  The medication must be clearly labeled and in its original container.  All medicines will be left with the lead teachers for proper handling.  We reserve the right to refuse to administer any medication.
Note: Be on the lookout for signs of a fresh cold:  if a child has a cold longer than 5 days, the child must see a doctor and be absent from the center until the cold runs its course.  To return to the center, a signed excuse from the doctor mus be submitted.  This facility does not care for mildly ill children with conditions listed on the SC DHEC childcare Exclusion List.
Release of children: Children will only be released to those persons 18 or older whose names are listed on the registration application.  Identification will be required before the pick-up person is taken to the child.  We ask that parents call the center to let us know if someone other than that persons listed on the application will be coming, and be prepared to tell us your password for the safety of our children.
Transportation: Transportation will be provided for after school care by contracted company.  The children/child must attend Florence District One Schools.  A transportation fee will required.  We also transport to all field trips, with signed permission slip including medical and insurance information.
DON'Ts: Do not allow your child to wear long or big earrings.  No open toe sandals, crocks, beads, or clothing that may cause an accident.  No toys or books from home are allowed unless a teacher has posted "Show and Tell".  There will be no candy or gum unless we are celebrating a special day.  Do not give your child these items before walking into the daycare or they will be asked to spit it out immediately.  No outside breakfast, lunch, or snack will be allowed in the center.  All party food must be store-bought, in it original container and sealed.
Parent Visitation: Parents are free to visit the preschool at any time during the day.  While visiting, the staff will be unable to conference with you about your child.  Ratio provides for each teacher to have their eyes on the children at all times.  If you have any concerns, please set up a meeting with the lead teacher.  If further guidance is needed, use the chain of command by letting us know personally, in writing or by phone.  We want to make informed choices about your child/children.  If we can help in any way,  communication is the key.
Eating Schedule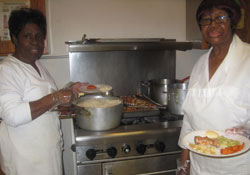 Breakfast will be provided  by the center from 6:45am to 7:45am.  One snack will be provided throughout the day and lunch starts at 10:20 daily.  If you child is coming in but running late please contact the office so we can add your child to the lunch count.  If you child arrives at the center after 8:45am, feed them before they arrive.
VERY IMPORTANT: It is our policy not to administer corporal punishment as a form of discipline.  Disciplinary methods are timeout, conference with parents, and suspension.  If we have a child that constantly disrupts our program and every attempt has been made to help the child adjust, we have the right to expel the child from daycare facility.
In case of an Emergency: If there is an emergency, our first step is to call 911.  We will not transport children to the hospital in the event something happens along the way.  One of our staff members will accompany the child (with their record) until the parents arrive.  The appropriate person listed on the application will be notified.
Evacuation Plan: In case of a fire, we will evacuate outside to the rear of the school.  Infants will be pushed outside in one or two cribs.  If we experience a natural disaster or threatening situation, the entire preschool will evacuate to the Excellent Learning Preschool gym area. The director or the designated person will check all areas of the center including bathrooms.  All children will be accounted for using the roll book and tracking system.